Renfrewshire Council invite feedback on Abbey Close improvements
January 27 2021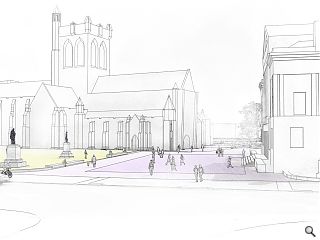 Renfrewshire Council is inviting the public to have their say on proposals for an expanded outdoor events venue and public space in Paisley.
A general upgrade to Abbey Close by Ironside Farrar will improve the setting of Paisley Abbey and the Town Hall; including an enlarged paved area and greater capacity for stalls and events.
Planned works include a general upgrade of paving and lighting and the removal of some boundary walls to open up the environment and introduce new seating. This will necessitate the relocation of two statues, Alexander Wilson and Robert Tannahill, a short distance from their current positions.
Renfrewshire Council leader Iain Nicolson said: "The last year has shown us that high-quality outdoor space will only be more important in future.
"While the major events were postponed in 2020 due to the pandemic, visitors to them and our reopened town hall will play a part in the area's economic recovery in the years ahead.
"When we last asked the public's views on Abbey Close in 2019 they told us they valued its architecture and scenery but felt it could be improved – the designs are based on that feedback."
The improvements are scheduled to be in place in time for the town hall reopening in 2022.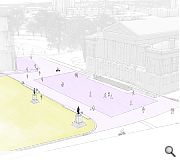 Enhanced paving and lighting will improve the setting of Paisley Abbey and the Town Hall
Back to January 2021