£22.4m Pentland Park plan to extend Straiton commercial corridor
January 27 2021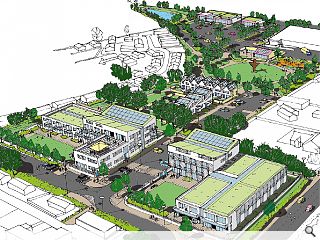 A proposal of application notice has been lodged for a mixed-use masterplan comprising leisure, homes and commercial uses on 10.7 acres of fallow ground in Straiton.
New Pentland is earmarked for Straiton town centre off the A701 and Pentland Road and represents a capital investment of £22.4m over the next two years.
Applicant Pentland Park Marine wrote: "This is an opportunity not previously considered by Midlothian Council. It has emerged as a result of sustained and established demand for new food retail development and other mixed-use commercial and residential interest in this particular location.
"We foresee a new development, which fits within its eclectic surroundings responding to the scale and connectivity opportunities of its setting and future development context, sitting within an important strategic growth corridor."
A digital exhibition will be held on 10 February between 15:00 and 20:00 with a detailed planning application set to follow in the spring.
Back to January 2021