Tillydrone pocket neighbourhood to address affordable homes shortage
January 26 2021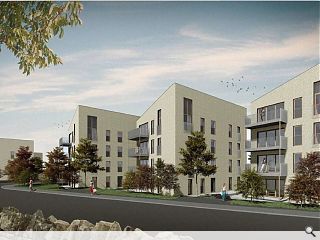 Oberlanders with RankinFraser are bringing forward plans for 31 new council houses in Tillydrone, Aberdeen, to address a shortage of affordable accommodation in the city.
Spread across two brownfield development plots Coningham Road, adjacent to the proposed new Riverbank Primary, the build aims to establish a 'pocket neighbourhood' mixing apartments and semi-detached homes.
All homes will meet the needs of elderly and disabled residents with unassisted access to the lower levels of all houses and flats built-in. Taking the form of five brick pavilions offset from Tillydrone Avenue the landscape focussed development will shield a linear park, including 77 new trees.
Outlining the scope of the application the applicant wrote: "Development at Tillydrone will be located on two plots: the now-demolished St Machar Primary School, on Coningham Road, and the now-demolished Aberdon Care Home, on Harris Drive.
"The two development plots are physically separated by Conningham Road and therefore comprise two separate planning applications, but both have been carefully coordinated to ensure a cohesive and fully integrated development proposal, creating a pocket neighbourhood of distinction and character, with a genuine sense of place, within the wider and rapidly evolving Tillydrone context."
Subject to obtaining the necessary consents work will begin in August for delivery by Summer 2023.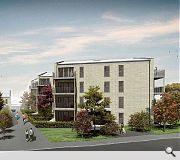 A fragmented frontage of buildings and trees is presented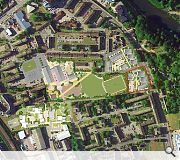 Homes will sit next to a planned new Riverbank Primary
Back to January 2021