Cinema courtyard to diversify Aberdeen's Bon Accord Centre
January 26 2021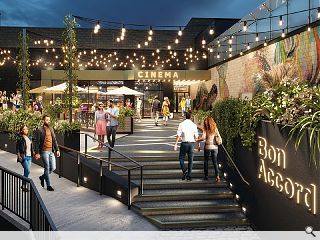 Aberdeen's Bon Accord Centre is diversifying with an application to reopen Drum's Lane to the public and establish a new civic space fronted by a four-screen cinema.
Planned work by Threesixty Architecture would transform a gated service yard sitting on top of below-ground retail by re-establishing pedestrian access through Drum's Lane Pend, advertised by new signage on Upperkirkgate.
This would connect to a new outdoor public space, retail and leisure hub as well as a dedicated link corridor into the mall itself.
Sharing the design intent behind the new courtyard the architects wrote: "The extension forming the cinema entrance will be primarily finished in black brick. We plan to create an element that wraps around the main cinema windows and frames the entrance to the cinema and mall which also forms a covered canopy for both entrances. The mall entrance doors will be set back from the cinema elevation."
The work would result in a net loss of retail space to the upper mall which will be replaced by a small corner shop to minimise the amount of dead frontage to the interior.
Back to January 2021