Dundee College redevelopment back on track
January 25 2021
New proposals to repurpose the former Dundee College as student flats have surfaced following a sale of the site to West Bromwich based Scodd Ltd.
The former campus at 30 Constitution Road has lain empty since 2011 as several plans to repurpose the building came and went, most recently with proposals to turn the building into 135 apartments.
Now a different direction is planned for the 'long overdue' redevelopment that will centre on transforming the building into accommodation for around 300 students managed by Collegiate AC.
In a statement, the new owners said: "The proposal centres on retaining the majority of the existing building (some relatively minor demolition to the central buildings linking the 'towers' is proposed), linking living areas with generous internal breakout zones and attractive external social spaces.
"The design proposes to celebrate and intelligently incorporate the original Architecture of the structure by cleaning and restoring the existing concrete frame and making this a key focal point of the design philosophy."
The full refurbishment would see facades replaced with new floor to ceiling glazing and rain-screen panels as well as an extension to the top floor.
A formal planning application will be made in the spring with Scodd currently inviting feedback via a consultation website to inform these plans.
Construction is expected to take 18 months once all approvals are in place.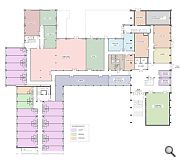 Facilities including a cinema, gym, library and lounge will be provided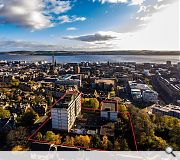 The former campus has become subject to antisocial behaviour including vandalism and drug use
Back to January 2021