Outdoor learning space to augment Calton Hill art gallery
January 22 2021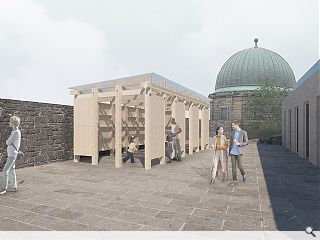 O'Donnell Brown Architects are bringing forward a spin-off of their timber frame community classroom for two sites at Calton Hill and Strathclyde Country Park.
The former is being brought forward as a temporary outdoor learning structure for Edinburgh Collective, providing sheltered space for a variety of group activities and events.
Designed and built by the studio as part of its community and educational work the structure takes the form of a demountable kit of plywood modules which can be bolted together to provide seating, shelving, worktops and presentation surfaces.
Positioned in the courtyard of the Calton Hill complex the classroom will be obscured by a perimeter wall and will offer open access to passing visitors.
Explaining the flexibility and adaptability of the kit of parts the architects wrote: "Constructed using one size of timber and one connection type throughout, its simple structure creates pattern and rhythm, further enhanced by the user's choice of module placement and colour, creating a unique and new facade each time it is used.
"The project was entirely selfinitiated and was designed and built by the studio in parallel with our ongoing community and educational projects, as a resource to explore connections between people, places and learning."
Children's charity Barnardo's will fabricate and erect the structure, providing work for long-term unemployed 16-29-year-olds.
Back to January 2021