Rutherglen Tennis Club courts players with new clubhouse
January 13 2021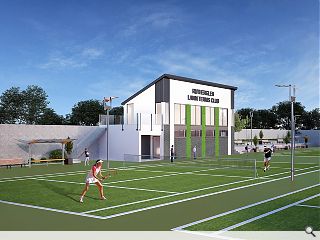 Plans to erect a new clubhouse on behalf of Rutherglen Lawn Tennis Club have taken a step forward.
Wilson Architects and Dougal Baillie Associates (DBA) aim to complete the upgraded facilities during 2021 at Viewpark Drive, comprising a two-storey facilities building which will also be made available for community use.
Approved plans detail a pavilion finished in handmade black and glazed green bricks and ivory render, complete with a first-floor viewing gallery overlooking four outdoor courts above changing rooms and office space.
Covered tennis courts will also be built at Overtoun Park in nearby Burnside as part of the works, complete with a shipping container style clubhouse.
DBA MD Fergus Adams said: "The current scheme, for which Rutherglen is seeking funding from a variety of bodies, will create four indoor courts and two courts for Padel, a game which is rapidly growing across Europe, played on a smaller court and using the walls."
Work on the new facilities will get underway shortly.
Back to January 2021