Vacant city centre floorspace put to alternative use
January 13 2021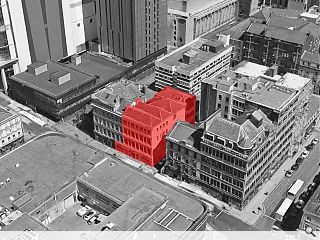 Renewed interest in vacant commercial floorspace in Glasgow has found another outlet in the hands of Mosaic Architecture + Design who have reworked plans to convert and extend 104-106 Renfield Street to provide nine apartments.
Following on from similar plans to extend an at-risk block at 55 West Regent Street the latest scheme takes on board criticisms levied at first draft plans last December, which found that the extension was unsympathetic in scale and design.
Responding to these concerns Mosaic has reworked its proposals to improve window alignment with the existing facade, keeping it in scale with its neighbours and introducing a new main entrance on Sauchiehall ane, which wraps around the corner as an extension of the main facade.
New additions are unified with bronze aluminium cladding and vertical fins illuminated by LED strips with new paving installed to improve the pedestrian experience.
Outlining their fresh approach, Mosaic wrote: "Externally the scale of the new upper floor level will match the wall head of the adjacent building in the same city block and it will be formed with bronze aluminium cladding panels with recessed joints to reflect the window arrangements of the existing building.
"The roof extension will appear recessive in nature when compared with the painted masonry of the existing building and the form will also be held back from the wall head of the Renfield Street facade to form a clear step."
The masonry facade will be painted with replacement windows swapped out for period-style timber sash and case.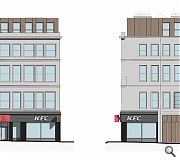 A bronze aluminium extension will maximise available floorspace
Back to January 2021