Mixed-use infill to heal Oxgangs gap-site
January 8 2021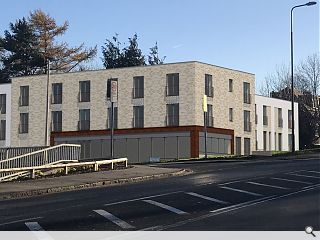 A recent gap-site left by the demolition of a GP surgery at 1 Oxgangs Path, Edinburgh, could play host to a mixed-use development combining commercial space with new homes.
Authored by McLaren Murdoch & Murdoch on behalf of New Age Developers the proposal calls for a corner shop with 9 flats and 2 houses to occupy the site, repairing the street with a continuous urban edge on two fronts.
The scheme is designed to maximise the commercial frontage to the corner & main road, keeping the residential aspects of the scheme to the east and south to tie in with the surrounding context.
The height difference between Aldi and our scheme allows for the majority of the flats to have unobstructed views to the North (towards Edinburgh City Centre) as well as to the North East and the public playing fields.
"Creating the enclosed amenity space to the rear has allowed quieter spaces to be separated from the road side. The building will not have a detrimental impact on the protected view cone from Craiglockhart Hill to the Pentland Hills."
The stepped solution is finished in brick and render with sawtooth window details.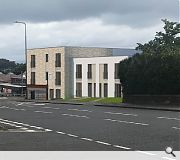 Floor levels rise in step with the topography of the ground
Back to January 2021