Claim your complimentary digital copy of Urban Ream
January 11 2021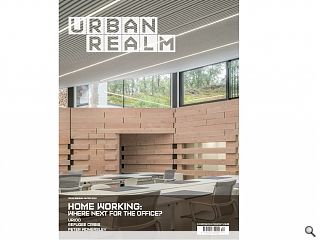 2020 may be a year to forget, but through the disruption, much has taken place to inspire confidence that we can build back better when the dust settles.
In light of present circumstances, we are offering a digital copy of the winter edition of Urban Realm to enjoy unlimited access to its contents while in lockdown
Take your first steps of 2021 together with Urban Realm as we beat the drum for progress in our New Year honours list - proof that great design can not only survive but thrive in times of adversity.
Nowhere is that more clear than the commercial sector, which has borne the brunt of an abrupt shift to home working. We investigate how the industry is responding to these challenges. The home has also been long overdue transformational change and recent events may finally provide the impetus to act, we look at how residential design is evolving.
Immediate prerogatives should not distract from long-term issues and we keep our eyes to the horizon by investigating the implications posed by climate change as well as Covid on the development of building typologies.
If 2020 was defined by crisis, 2021 is the year for solutions. Claim your digital copy of our latest edition and play your part in a new beginning.
Back to January 2021