All-weather courtyard to knit Edinburgh townhouses together
January 8 2021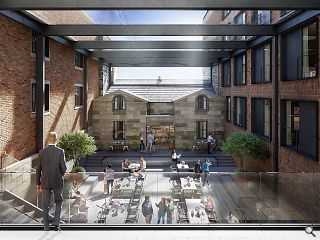 Two B-listed Georgian townhouses at Picardy Place, Edinburgh, will form the backbone of a new 67-bedroom hotel close to the new St James Quarter.
Morgan McDonnell Architects have been enlisted by Silvermills Estates to consolidate both properties as a single entity, principally via a new build extension to Broughton Street Lane which will rationalise circulation between a series of ad-hoc later additions.
A glazed link will serve as a buffer between new and old elements, enabling a newly repaired and reconstituted stone facade to be showcased, part of a broader program of fabric repairs.
Explaining the decision making process the architects wrote: "This demonstrates the principle of subservience by significantly offsetting the new extension from the townhouse façade by approximately 5 metres and taking away the clumsy collision of the existing extension which obscures much of the façade and awkwardly truncates the remainder.
"The substantial 5m wide glazed link encapsulates the historic façade and creates a dramatic circulation space where bridge links span a 1-metre void created between the extension and the townhouse."
Rear facades will utilise a red/brown brick to blend in with an existing extension and stand flush with the street edge to reinforce the dense urban character of the mews lane.
A garden courtyard will be retained as the public heart of the hotel, covered by a lightweight ETFE roof to permit year-round occupation.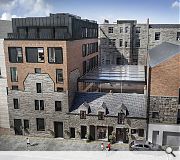 Edinburgh's fickle climate will prove no barrier to al-fresco dining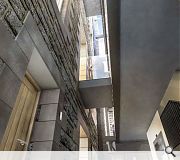 Elevated bridge links will connect old and new elements at all levels
Back to January 2021