Bennetts Associates prepare amended Citizens Theatre plans
November 2 2017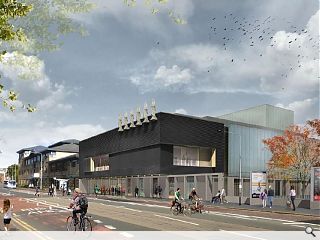 Revised plans have been brought forward by Bennetts Associates for an overdue remodel of
Glasgow's Citizen's Theatre
to in order to remedy the 'dilapidation and disfunction' of the venue as it exists currently.
Planned works include the creation of a polished metal and textured brick street frontage with neon signage and foyer space, together with a reconfiguaration and refurbishment of the B-listed auditorium and backstage areas.
Working with conservation architect Ian Parsons and fire engineers Atelier Ten design team have sought to create more legible connections through the deep plan of the theatre by rationalizing a series of ad-hoc additions which have sprouted over the years.
In a statement Bennetts wrote: "The proposed façade has theatricality and transparency that will reveal glimpses of the auditorium gable and the activity of the foyer. It will make the theatre open and welcoming, and allow it to engage with the street.
"The auditorium will be at the centre of the scheme. The accretions accumulated overtime will be stripped back to reveal the auditorium's sandstone walls."
A key move in the overhaul will be to open up public access to the mezzanine level, full height of the fly tower and stage cellar, allowing visitors to appreciate historic stage machinery for the first time.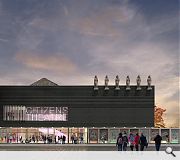 A band of pavement, trees and gardens will spill out from ground floor rooms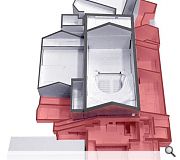 Areas to be demolished are marked in red
Back to November 2017