Merry Christmas from Urban Realm
December 23 2020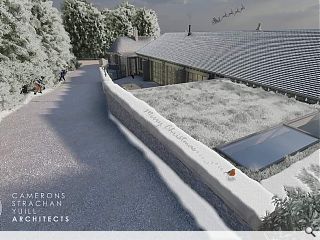 It's been an eventful year not just in terms of headline hogging global black swans but at a local level through outbreaks of sketching, mergers and employee ownership drives - with the bread and butter of ongoing project work keep us all busy through it all.
While we gladly close this chapter the work on these pages should inspire confidence that we can and will bounce back better. If 2020 was a year of crisis then 2021 can be the year of solutions.
In the meantime, we've pulled together a selection of seasonal messages to close out the year before normal service is resumed from 4 January.
Camerons Strachan Yuills Architects (main image): "2020 has been challenging, but it was also when we merged three firms, creating a strong team with diverse experience & skills."
Tom Manley: A difficult year for all in so many ways. This year's 'card' features a phone snap of some glitzy lighting at the Christmas' light show in Edinburgh's Botanical Gardens and a photograph of Glasgow's wonderful Britannia Panopticon Music Hall.
Alan Dunlop: Over 200 new sketches. Filling 8 sketchbooks, since March......... from the beginning of lockdown and isolation, through the loosening of restrictions, then tightening, then loosening again, until now.
"Hand drawing is the language of the architect" - Louis Kahn "Of course it is" - Alan Dunlop
Back to December 2020