Clydebank District Heating Network becomes operational
December 10 2020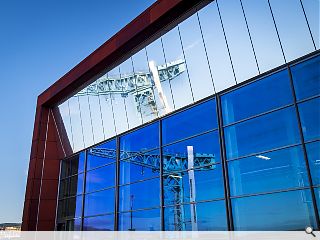 The first large-scale water source heat pump of its kind in Scotland has been completed in Clydebank as the hub of a new centralised heating system.
The District Heating Network is centred on a Cooper Cromar designed energy centre at Queens Quay where water is extracted directly from the River Clyde before being heated and distributes to homes and businesses through 5km of insulated pipework.
Carbon-free heat will warm over 140 homes on the waterfront regeneration site as well as Clydebank Leisure Centre and a new care home. Later expansion could see the network extend to the town centre and Golden Jubilee Hospital.
Councillor Marie McNair said: "We have a long and proud history of industry at the River Clyde on this site, and I welcome the new system which will mean the River and its water can again be used to support its residents. The design of the Energy Centre has also been chosen to complement our town's landmark features, including mirrored cladding to reflect the River and Titan Crane."
Dominated by a 30m chimney the energy centre was built by Muir Construction and contains a remotely managed operations centre.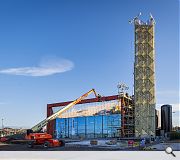 The energy centre will eventually power up to 1,000 homes at Queens Quay
Back to December 2020