Future looking up for disused Parkhead JobCentre
December 7 2020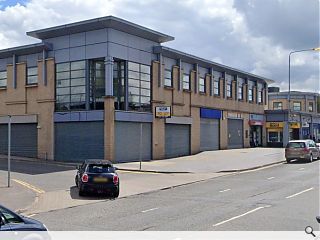 A disused Job Centre in Parkhead, Glasgow, dating from 1993 is to form the basis of 14 new apartments and four townhouses under plans filed by ZM Architecture.
Norman House on Duke Street has lain vacant since 2017 prompting owners the Real Estate Investment Trust to bring forward development proposals to bring the upper floors back into use while retaining ground-floor retail, capitalising on the planned North East Health Centre next door.
John McGregor of REIT said: "After three years of a void, we intend to secure a planning consent for an alternative use and to sell to a suitable developer/investor. A few suitors have made themselves known to us including the local housing association. "As investors, we continue to be committed to this part of Glasgow and we intend to retain the retail element."
A structural assessment undertaken by David Narro Associates concluded that the current concrete slab structure is suitable for supporting a lightweight steel-framed extension.
As such proposed interventions will see the roof and first floor of the current structure demolished to leave a development platform for a new extension while retaining and modernising existing brick facades and ground floor commercial units.
In a design statement, ZM wrote: "The design deploys a new rhythmical framework that picks up on the existing structural intervals of the façade and the distinctive frames. The beam and post structure devised unites the residential blocks."
The new roof structure would include a communal landscaped amenity deck with access to second-floor flats provided via external staircases from the courtyard.
Post and beam framing will be expressed externally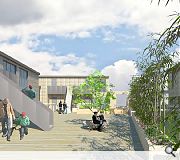 Residents will share access to a first-floor roof garden
Back to December 2020