Covid-proof Bothwell townhouses feature home cinemas and gyms
December 4 2020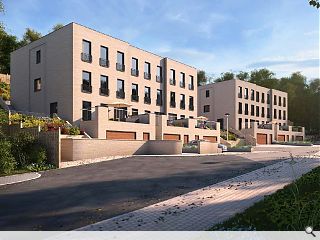 Mansion Kingdom Homes have launched a collection of modern townhouses at Glebe Wynd, Bothwell, spread across four blocks.
Designed by IIxII Architects the development of 12 terraced properties each includes integral projecting garages with balconies above, to make the most of the valley site.
Featuring terraced gardens and balconies the sandstone properties will provide four floors of accommodation stretching to around 4,000sq/ft and include high-end features such as a home cinema and gym.
In a statement, the developer wrote: "The design of the four-storey townhouses creates an exciting exchange with the surrounding dwellings whilst energising residential living in this more traditional area. The design intent was led by the idea of creating a place where nature and architecture entwine.
"The whole scheme is divided into four distinctive blocks offering expansive four storey, 4 bedroom spaces. The design of the individual terraces and gardens weave all the units together, binding them as a community without disturbing their privacy."
Branded as The Glades the development won final planning approval from South Lanarkshire Council last year.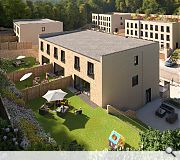 Elevational changes necessitate the use of tiered landscape terraces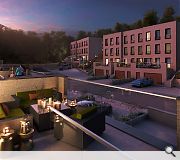 Ground floors will incorporate a garage, gym, shower room and bike store
Back to December 2020