Cantilevered home strikes the right balance in Perthshire
December 4 2020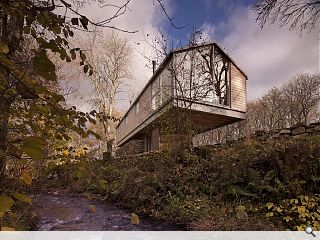 A long-abandoned Flax Mill near Loch Tummel, Perthshire, has served as the genesis for a dramatic £220k cantilevered home in balance with nature.
Governed by a desire to retain as much of the 1m thick dry stone walls as possible the design solution adopted by Taylor Architecture Practice sees only the unstable walls to the south and west removed, retaining a minimal footprint for new build, constrained further by a river embankment.
These limits guided the development of a cantilevered upper floor which maximises the available floorspace by oversailing the fall in level, delivering a gravity-defying living space in the process.
Explaining the site-specific approach TAP wrote: "The cantilevering design that was developed creates a dynamic composition, as the upper volume projects over the mill and the river edge. It is also pragmatic in that it avoids the need to install a concrete structure into the unstable ground of the river embankment and provides a covered entrance and outdoor dining space."
Expressing the cantilevered steel ring beam as a horizontal element in the facade the home is finished in panels of glazing and horizontal larch boards edged with aluminium trim.
On the western side, the steel structure is left exposed internally and set back from the glass wall to make the most of the views across the valley to Schiehallion.
Back to December 2020