Greenock nursery breaks ground in Inverclyde early years drive
October 12 2020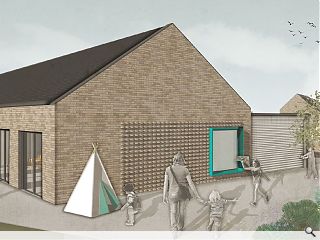 Inverclyde Council with Hub West Scotland have instructed CCG to move on-site with a £2.8m nursery at Stafford Road, Greenock on 19 October.
Larkfield Early Learning Centre has been designed by Holmes Miller Architects with Baker Hicks and Hawthorne Boyle as a tandem build, entailing construction of the nursery followed by demolition and landscaping of Sacred Heart Primary School.
Accommodating 100 pupils the nursery will provide pitched roof play spaces adjoined by flat roof teaching accommodation, the roof for which will extend over a covered outdoor teaching area.
Councillor Jim Clocherty commented: "We want to make sure all our young people have the best possible start to life and their education and a new, high-quality nursery environment will help towards that."
The Greenock centre follows a start on-site of a similar facility in Port Glasgow in August.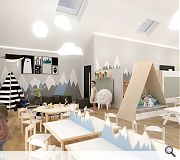 Acoustically absorbent objects will be suspended from the ceiling to act as baffles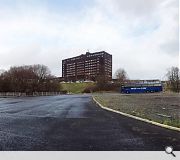 The nursery will stand close to Inverclyde Royal Hospital
Back to October 2020