Urban Realm magazine punctuates lockdown
October 12 2020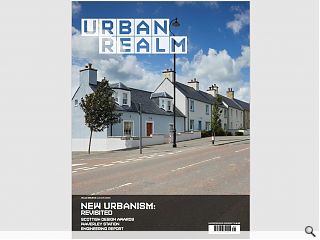 This quarter Urban Realm we don't do anything by halves as we bring you the lowdown on everything from a new generation of engineers moving to change the world to a full report on the Scottish Design Awards.
Our cover story takes us back to Knockroon for a ten year retrospective on a development which promised much despite becoming a poster child for style wars. Does the model have anything still to teach us in 2020?
Amid climate disruption, pandemics and political polarisation we identify the pressing need to act now with a manifesto for change and take an in-depth look at Waverley Station. Are plans to rebuild the transport hub already out of date as travel is upended?
We also catch-up with newly installed RIAS president Christina Gaiger for a preview of what the organisations youngest-ever leader has planned over the next two years.
There's a lot to digest so sit back and brace yourself for another assault of architecture and argument in the autumn edition of Urban Realm magazine.
Back to October 2020