Langside Halls study to expand the southside's cultural offer
October 8 2020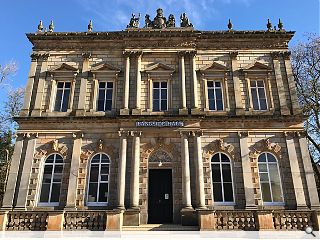 Langside Halls Trust have asked Hoskins Architects to identify a sustainable long-term future for the A-listed venue on Glasgow's south side.
The practice will undertake a 20-month feasibility study for the Langside Halls, in conjunction with culture and heritage specialists Jura Consultants, to bring forward a viable business and conservation proposal to unlock capital funding next year.
Kevin Kane, chair of Langside Halls Trust said: "We want to expand the Southside's current cultural and leisure 'offer' and working with our consortium partners – Glad Café, Southside Festival and Southside Film - and others, our ambition is to create a regular cultural and social programme at the Halls, use them as a platform for existing and new organisations in the Southside and continue their traditional role as an affordable community-venue-for-hire."
Melanie Hay, of Hoskins Architects, commented: "Our study will focus on improving circulation and accessibility for all, identifying key building fabric improvements and assessing the functionality of the existing spaces to develop a sustainable plan for the Halls."
A digital consultation will run in tandem with these efforts, made possible with the support of Glasgow City Council Area Partnerships, Glasgow City Heritage Trust and Architectural Heritage Fund Scotland.
Back to October 2020