£15m interactive distillery to cater for ongoing whisky boom
October 9 2020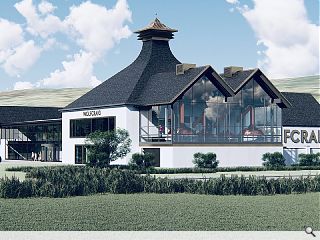 A £15m distillery emphasising the visitor experience has been proposed for Stirling with the production side augmented by a tasting, room, restaurant and bar.
The Wolfcraig Distillery has been designed by Opfer Logan Architects on behalf of Whyte & Mackay to stand as an 'education-focused' visitor attraction, with open aspects toward the Wallace Monument.
Interactive displays will recount the history of whisky production and the local area with on-site tours giving visitors access to production areas.
Distinguishing itself from a spate of rival distilleries Wolfcraig will employ blockchain technology to provide transparency for consumers, with each individual bottle traceable by its own QR code which will counter the widespread sale of counterfeit spirits.
Should planning approval be granted it is expected that the could be up and running by summer 2022.
Back to October 2020