Newmains shared campus brings pupils together
September 29 2020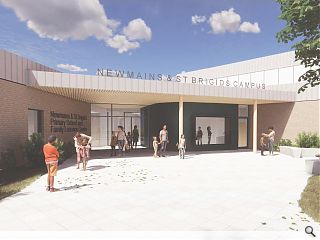 North Lanarkshire Council have invited BDP and BAM Construction to co-locate the existing Newmains and St Brigid's primary schools to a new shared campus.
A greenfield site north of St Brigid's current site in Newmains has been identified for this purpose accommodating some 500 pupils as well as providing a further 100 nursery places.
The star-plan school will see segregated classrooms arrayed in four wings around a shared common activity space, preserving the identity of each separate school while simultaneously bringing them together. This arrangement allows each classroom to have direct playground access and flexible teaching area with gardens terminating each classroom wing.
In a concept statement, the architect wrote: "The proposed new campus building is principally single storey, an appropriate scale for small children, with an enhanced height in the middle where the two schools come together.
"The central space is naturally lit by means of a north facing lantern and provides a number of shared activity spaces. The democratic approach to the planning of the building means that both Newmains and St. Brigid's Primary Schools and the Family Learning Centre have equal opportunities to access the shared facilities.
"The atrium helps to unify both schools under the same roof and emphasises the shared campus philosophy."
A 'tree' column and stepped seating area signifies the heart of the school, complete with a wraparound slide to bring a little fun to the space.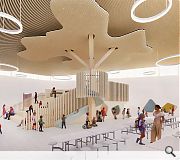 A social core will act as a point of commonality for both schools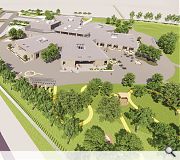 Two wings will be allocated to each school for junior and senior classes
Back to September 2020