Glasgow University to Govan active travel link breaks ground
September 21 2020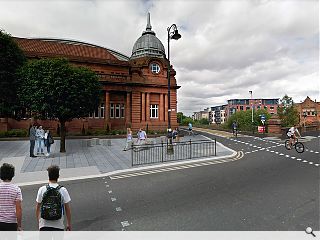 Glasgow City Council has commenced delivery of its active travel north project to improve cycle and pedestrian infrastructure between the University of Glasgow and a proposed bridge connecting Govan and Partick.
Public realm improvements as part of this work are designed to improve the local environment by April 2021, encouraging usage while also connecting with neighbouring projects such as the redesign of Byres Road and proposals for the Yorkhill Cycling Village.
In a press statement, the authority wrote: "The current conditions do not encourage sustainable travel and results in the potential for conflict between those on foot and those on bikes. An Options Appraisal process identified a preferred approach which involves delivery of new segregated cycle infrastructure along Bunhouse Road, Old Dumbarton Road, Benalder Street and Ferry Road.
"Enhanced materials, street furniture and public art will be used to create a network of public spaces at key junctions and lighting will be replaced to enhance feelings of safety and security."
A planning application has now been filed for the bridge element of the link, with a construction contract expected to be awarded by summer 2021 with the bridge opening to the public by 2023.
Back to September 2020