Byres Road reorganisation to prioritise cyclists and pedestrians
April 24 2019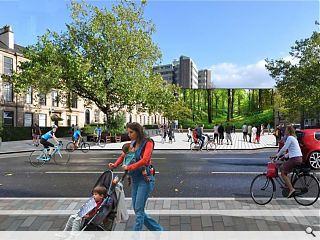 Glasgow City Council is backing £9m of public realm improvements to Byres Road following the conclusion of a public consultation exercise.
Plans call for the introduction of segregated cycle infrastructure along the thoroughfare together with a 20mph vehicle speed limit, improved pavements and additional seating – all of which will shrink the available road surface by 30%.
On-street parking will also take a hit, with spaces falling from 117 to just 42, although provision will be made to increase parking across the wider area.
Carol Connolly, head of City Deal at Glasgow City Council, commented: "The new public realm at Byres Road will improve the experience of the area for all those who live there or use it for shopping, studying, or going out to eat and drink."
Discussions are ongoing as to whether to pursue a footpath level cycle lane or a stepped version, but the system would incorporate a series of bus stop bypasses to route cyclists way from passengers as well as kerbs and drop bollards around the Hillhead Subway taxi rank.
Back to April 2019