Fresh apartment bid made to transform B-listed Dundee flax mill
|
Send to friend
September 17 2020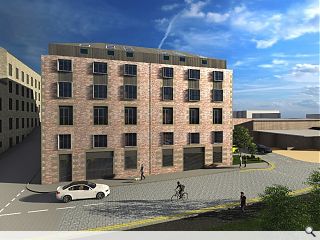 Listed building consent is being sought to transform a B-listed flax warehouse at Lower Dens Works, Dundee, into 24 apartments.

Conforming to designs first published last year the application by Brunton Design will repurpose the Victorian building for residential use following the conversion of its neighbours into serviced apartments and a hotel.

Most recently in use as a garage and workshop, the future of the structure remains uncertain until a long-term use is found, prompting owner Stables Dundee to seek sensitive repairs to the red sandstone rubble construction - which retains some original timber doors and loading bays.

As part of the conversion works it will be necessary to remove the roof and central spine wall, retaining existing slates for a new roof with sufficient headroom for fifth-floor apartments. Blocked up windows will also be reinstated with some new openings necessary to provide light to new floor levels.

Vehicle access will be routed at basement level with pedestrians entering via an existing courtyard to the north off Dens Street.
Back to September 2020