West Lothian '20-min neighbourhood' to plug housing shortfall
September 14 2020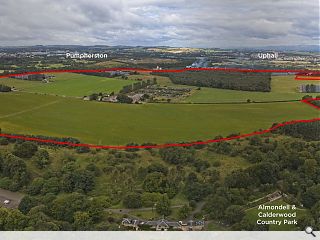 A West Lothian poultry farm complex is to be subject to residential-led mixed-use development following the submission of two proposal of application notices (PAN).
Drumshoreland Garden Community is envisaged as bringing up to 2,000 homes Clapperton, replacing a variety of agricultural sheds and surplus land with a new parkland and residential landscape.
500 affordable homes will be included in the mix with the masterplan conforming to the ideal of a '20 minute neighbourhood' in which essential amenities and greenspace can be reached within a 20-minute walk.
A spokesperson for Amber REI (Agriculture) said: "As an exemplar low carbon community Drumshoreland will not only deliver much-needed housing, including affordable housing, but employment, education and community facilities. It will also deliver significant post-COVID investment into the poultry processing supply chain across Scotland, creating jobs, both directly and indirectly, as well as delivering a low carbon future for the agriculture sector."
A mix of employment, education and community facilities will also be provided under the masterplan.
Back to September 2020