Carntyne early years centre to accommodate rising demand
September 4 2020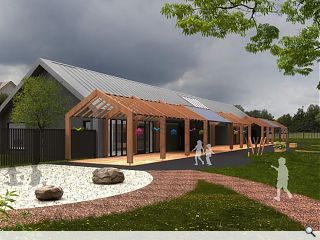 Glasgow City Council is rolling out the latest in a series of early learning and childcare facilities at Hogarth Park, Carntyne, to meet rising demand.
Following the template laid out at similar builds in Broomhill, Govanhill and Tollcross the latest addition to the burgeoning early learning estate is required to meet expanded care obligations.
Housing up to 87 pre-school children the proposed accommodation will be built to the south-east corner of the park on land described as having little open space value.
The authority wrote: "This area of Hogarth Park is largely hidden from passing users and as a result of its 'backland' location there are issues with antisocial behaviour. The current condition of the park is in a generally poor state, made up of undulating grassed areas with a small number of surfaced paths to the west.
"A number of desire lines are evident across other areas of the park, however, none are visible within the location of the proposed site boundary."
Reprising the dual-pitch form of contrasting brick and standing seam cladding as seen elsewhere in the city, has been adopted as the chosen solution, visually segregating playrooms from administrative functions.
Back to September 2020