Failed Tollcross Millenium Building to make way for a nursery
June 8 2020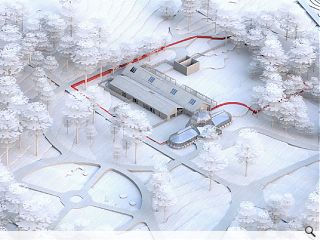 Glasgow City Council has announced the third of a trio of new Early Learning Centres for the city with plans for a new facility within Tollcross Park.
Part of a new wave of nurseries necessary to meet new care obligations the facility will replace the abandoned Architen Landrell designed Millenium Building to provide four separate playrooms, each with direct outdoor access while minimising loss of green space.
This approach will retain the adjoining B-listed Winter Gardens, restored in 2001 but forced to close just two years later after sustaining storm damage, as a standalone structure with an entrance square formed in the space between both.
In a strategy document, the authority wrote: "The new building comprises of two simple parallel blocks with pitched roofs, that slide past each other to form the entrance.
"The park facing block is clad in brickwork with a colour matching tiled roof to create the appearance of a single surface wrapping up the walls and over the roof. Similarly, the metal cladding of the playroom block continuously wraps up and over. The appearance of a single material seamlessly covering each form from wall to roof, along with concealed gutters, emphasises the simple crisp geometry of the building.
"The freeflow play ethos is supported by a timber pergola structure, creating a sheltered transition zone between inside and outside."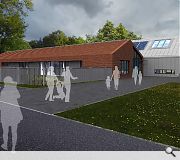 A shared entrance square will sit alongside the restored Winter Gardens
Back to June 2020