Kennedy Fitzgerald
April 7 2006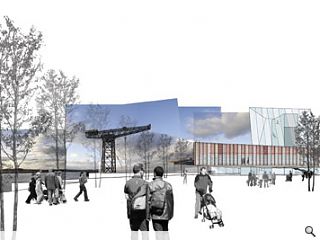 Northern Irish architects Kennedy Fitzgerald has been appointed to design a new £14 million leisure centre for Clydebank. Kennedy Fitzgerald beat off competition from practices with a shortlist that included Faulkner Browns, Studio E and Austin Smith Lord. West Dunbartonshire Council is the client for the project, but Clydebank Re-built, the local URC, is responsible for the enabling of the site and the procurement of the design team and the contractor.
Kennedy Fitzgerald's strong reputation as designers of leisure centres was enhanced by the success of the Falls Road Leisure Centre in Belfast. Ian McKnight, the project architect for the Clydebank centre, was one of two project architects that designed the Falls Road project.
The new leisure centre is an important component in the Page\\Park master plan for the area. It will sit to the south of a large housing development designed by Malcolm Fraser for Stewart Milne. The pace of development on the old shipyards is impressive. The superstructure on Clydebank College is complete, as is work to the quay walls. Page and Park's enterprise centre will go on site very shortly.
Back to April 2006