Lighthouse exhibition
April 7 2006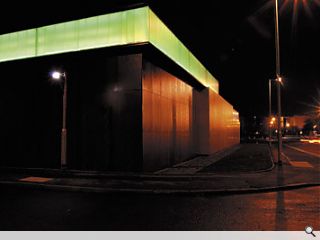 The third biennial review of Scottish architecture and the associated exhibition was launched at the Lighthouse in April. This year's review, subtitled Defining Places, has a strong and clear theme, which is place-making and naturally its nemesis – non-places.
The first essay, by Riccardo Marini, Edinburgh's design leader, talks about the difficulties of creating new meaningful places in a city with a significant historic core.
There is the obligatory attack on volume house-builders and a discussion about non-places and the meaning of place. Brian Evans, deputy chair of Architecture + Design Scotland looks at traditional urban forms and new urbanism. The book also reviews six recent developments and looks at how they contribute to the environment in which they were built. The featured projects include the Pier Arts Centre by Reiach and Hall, the JKS Workshops by gm+ad and the Robin House Hospice by Gareth Hoskins. The associated touring exhibition was designed by NORD and features photographs by Brian Sweeney and films by ISO. It is on display at the Lighthouse until June 2006 before it travels to Orkney, Aberdeen and Edinburgh.
Back to April 2006