Waverley Station mezzanine to provide a platform for future growth
August 5 2020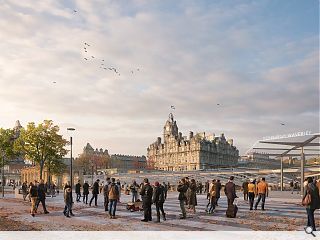 Concept designs for the remodelling of Edinburgh's Waverley Station have been unveiled, showcasing a major new public space on Waverley Bridge.
A partnership between Network Rail, Transport Scotland and the City of Edinburgh Council is behind the concept, which seeks to forge new connections for walkers, cyclists and public transport to prioritise low carbon travel.
Key to this approach will be the introduction of a new station-wide mezzanine concourse that will dispense with an awkward series of steps, ramps and elevators to connect directly with surrounding streets, enabling operational platforms below to be extended in turn.
Michael Matheson, Cabinet Secretary for Transport, Infrastructure and Connectivity commented: "The Masterplan has produced an exciting concept design which delivers a station that can meet operational requirements for the longer term and improves accessibility for all by addressing, through its use of a mezzanine floor, the complex levels around the station.
"By introducing new points of access in key areas, this plan will ensure the station becomes a seamless gateway to the Old and New towns of Edinburgh and one that encourages greater commuter, business and leisure use alike."
The concept designs have been prepared by Arup with full implementation of the masterplan not expected before 2040.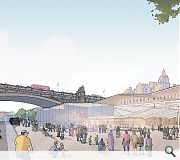 At grade access from Market Street will enable the creation of fully-accessible entrances and generous circulation space
A two-tier station will rationalise access to the deep valley platforms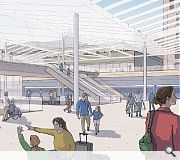 Shifting the main concourse to street level will free up platforms to accommodate future growth
Back to August 2020