Japanese memorial garden to honour 'The Scottish Samurai' Thomas Glover
June 24 2020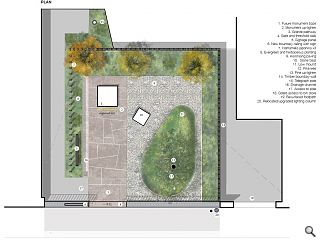 The latest phase of the Fraserburgh 2021 town centre regeneration initiative has been revealed with the submission of plans for a memorial garden on a stubborn bomb site dating from the war.
The Glover Birthplace Project marks the childhood home of industrialist and entrepreneur Thomas Blake Glover who spent his earliest years in the town. It is supported by Aberdeenshire Council, Historic Environment Scotland and the National Lottery Heritage Fund.
15 Commerce Street will be reimagined as a Japanese-themed courtyard garden at the hands of RankinFraser which will double as a community and interpretation space documenting Glover's role in the creation of modern Japan.
In a design statement detailing their approach the landscape architects wrote: "Our proposals are for a simple, balanced space comprising of a monument and a Pine tree, inspired by the image of Thomas Glover's garden in Nagasaki which he named 'Ipponmatsua', translating as 'Solitary Pine'.
"A dwarf Pine is proposed to be located within a low mound planted with low evergreen ground-cover, referencing the mossy mounds of traditional Japanese gardens."
A statue of Glover will be erected within the garden at a later date.
The project follows the completion of the Faithlie Centre, a new unified headquarters for Aberdeenshire Council.
The site has lain unused for over 70 years
Back to June 2020