Comment from all quarters invited on Glasgow centralisation strategy
June 24 2020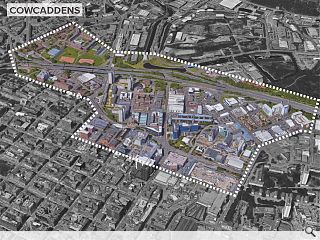 Glasgow City Council has designated Cowcaddens, Strathclyde University, the Merchant City and Townhead as four separate District Regeneration Frameworks in a push for city centre renewal.
Each area will be subject to a decade-long plan to inform future regeneration. This will be informed through public comments received via a dedicated website and Freephone line.
Graham Ross, architect and urban planner at Austin-Smith:Lord said: "To ensure future action plans for these districts are relevant and effective we need to develop distinctive, local solutions with the people who know the place best. We're looking for ideas, big and small, to improve the quality of life for everyone who lives, works, learns or visits here. It's vital that we tap into local wisdom and knowledge so we can capture the essence of the issues needing attention and set a positive agenda for regeneration and recovery over the next ten years.
"We want anyone passionate about Glasgow to share ideas about how to enhance our everyday experiences of these districts, and help set future ambitions that will enable Glasgow to thrive as a great European city."
A consultant team including Dutch urbanists Studio for New Realities, Urban Movement and Civic Engineers has been tasked with preparing draft action plans for each district by early 2022.
Back to June 2020