Edible gardens and 'self-propelled' transport lead post-Covid living transformation
June 18 2020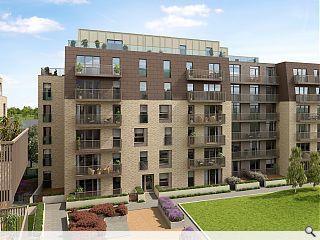 A housebuilder has published a blueprint for how it sees living requirements evolve in a post-Covid world with the publication of a new design framework which prioritises green roofs, 'edible' gardens and 'self-propelled' transport.
This simpler way of living is being championed by Artisan Real Estate which has pledged to adapt its Edinburgh developments to conform to the new self-sufficient and energy-efficient ethos.
Adopting the City of Edinburgh Council's 'Future Edinburgh' commitment to become carbon neutral within a decade through projects such as
Rowanbank Gardens
in Corstorphine by 7N Architects and Sheppard Robson's
Canonmills Garden
- each of which will embody a zero-carbon philosophy.
Clive Wilding, Artisan's group development director, remarked: "The challenges highlighted by the Covid 19 pandemic has accelerated the importance of changing the way we deliver new home development.
As well as reducing urban sprawl by optimising the number of people living in well-designed, sustainable homes in low car-use locations well-served by public and 'self-propelled' transport, we are also envisaging what people want from their living environment, post-Covid 19.

"Significant emphasis is placed on the quality of internal space and light to create enjoyable home-working environments, whilst accessible gardens and landscaping promote health and well-being by making nature and well-designed outdoor space integral to the day-to-day living experience."
Canonmills will take advantage of features such as a combined heat and power system, electric vehicle charging points with Rowanbank incorporating a courtyard garden filled with fruit trees, communal planting and growing beds.
Back to June 2020