Architect urges people to take to the streets in a play revolution
June 19 2020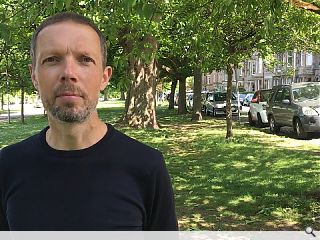 Architect Calum Duncan, chair of Play Scotland, has issued a plea for more urban spaces to facilitate play amid concern at the mounting learning and wellbeing impact the current lockdown is having on children.
Addressing local authorities, the profession and construction industry more generally Duncan calls for play spaces to be given the same priority as walking and cycling routes as part of a broader consideration of amenity and wild space in future developments.
Duncan told Urban Realm: "Being playful during these times of home- working, home-learning and restricted movement, is more important than ever. Play is a vital and simple way for families and siblings to feel connected; it is a tonic in the face of anxiety, and it is a way of exploring ideas as an opportunity for intuitive learning. However, we are challenged by good appropriate space, inside and out, for everyone to play and explore.
"Space is needed for children and young people to PLAY, as well as all of us to get fresh air and exercise."
Mindful of the potential for a regression to the way things were when the lockdown is lifted Duncan champions targetted road closures for play, walking and exercise, particularly where they pass schools and parks - rewilding them in a manner not dissimilar to lost railway lines from the Beeching cuts.
Duncan added: "A busy road junction adjacent to schools could be transformed into an expanded playground space, whilst calming car use too. A stretch of residential street could be closed where residents have limited or no gardens."
Duncan quotes statistics which show 15% of UK homes have no access to private outdoor space, while just 25% of flats provide their occupants with greenspace, with disadvantaged areas not coincidentally providing the least private outdoor space.
He concluded: "It is not just for local authorities to take actions on these issues, we can all help. For every single journey we need to make, the less we drive, the slower we drive, the more we cycle and the more we walk, the more space we are making for all ages to enjoy and play. We have an opportunity to change our mindsets which will improve play space, mental-health and wellbeing, as well as the air quality for all of us. Let's make space to play and breathe."
Calum Duncan speaks about space for play from Play Scotland on Vimeo.
Back to June 2020