Millport town hall rejuvenation makes a grand entrance
June 11 2020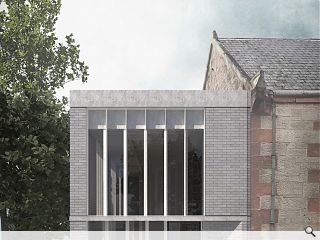 Serving as the civic heart of the Isle of Cumbrae until 2012 the unlisted building has swiftly deteriorated to the point where it now languishes on the Buildings at Risk Register. Now O'DonnellBrown Architects have authored detailed plans to renovate the structure to serve as a community hub once again.
Located on the junction with Clifton Street and Howard Street in the historic town centre the hall comprises three attached buildings, creating a confusion of entrances and level changes.
Planned works will rationalise access while permitting the use of the main hall as a concert and performance venue, capable of hosting weddings and conferences. Three holiday flats will also be provided on the second floor with a heritage centre situated in the basement.
Key to ensuring these spaces will be fully functional is a double-height entrance foyer flanked by generous south-facing vertical windows to flood the space with light. This will lead on into a triple-height stair atrium to provide a dramatic entrance to the main hall.
This signature volume will be sensitively handled by stripping back a suspended ceiling to reveal previously hidden roof trusses. Blocked window openings will also be revealed again to maximise light and space.
As part of the work, exterior stonework will be cleaned and restored to bring the hall back to its former glory.
Back to June 2020