Funding secured for Millport Town Hall restoration
March 23 2020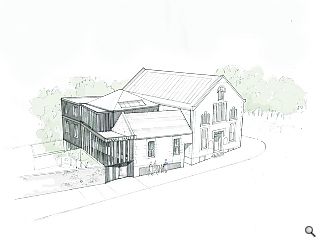 North Ayrshire Council has approved a £30k package of funding to progress a full restoration of Millport Town Hall.
The community investment fund cash will ensure the charity owners of the crumbling hall can progress a full planning application and building warrant for the landmark project.
Angie McCallum, Millport Town Hall charity volunteer commented: "First built in 1878, the island's town hall was once at the heart of community life. Since falling into a state of disrepair, a fantastic group of volunteers have been leading the Friends of Millport Town Hall community effort to restore this important historical building to its former glory.
"With adaptations and restoration, the building will serve as an exciting community hub space and heritage centre which can be used by all for community events and activities."
Indicative plans drawn up by O'DonnellBrown envisage the transformation of the space into a tourist attraction capable of hosting large-scale events such as art exhibitions and theatre performances.
Facilities will also be provided for local community groups as well as a heritage and skills centre.
Back to March 2020