Glasgow extends early years provision with Broomhill build
February 18 2020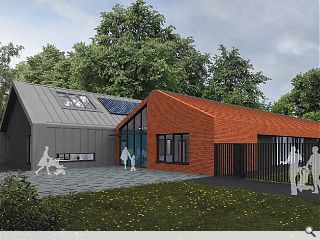 Glasgow City Council has come forward with plans to erect a sister early learning and childcare facility in Broomhill, a sister development to their recently unveiled Govanhill hub.
Part of broader measures to increase capacity in order to meet new obligations to increase the provision of early years learning and care by 2020, the latest addition to the council's estate will provide space for up to 87 pre-school children.
Situated within the grounds of the former Broomhill Primary annexe in the west end the chosen solution once again breaks up massing with a dual pitched roof, positioned back from the site perimeter to minimise tree loss and maximise south-facing playground.
In a statement, the authority wrote: "The two forms of the building will be articulated with the use of contrasting external materials that are selected to complement the visual character of the immediate
built environment.

Brick is chosen for the entrance block as it evokes a sense of solidity, permanence and robustness; qualities that are reminiscent of the neighbouring tenements. The smoothness of the standing seam metal cladding contrasts sharply with the brick, whilst the ribbed fibre cement cladding that is used sparingly on both blocks unifies the building."
The main entrance will be oriented to Randolph Road off a 'front garden' which will double as an outdoor meeting space.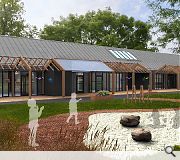 South facing external play spaces will be maximised
Back to February 2020