Glass pod signifies £8m Aberdeen Station chrysalis
June 3 2020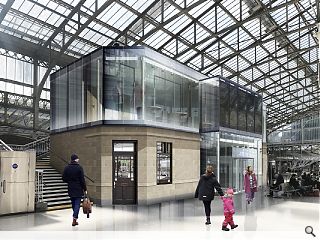 An £8m overhaul of Aberdeen Station is on track with the appointment of Austin-Smith:Lord as lead design consultant as part of a broader team including Fairhurst, SVM, Abta Safety and Gleeds.
The practice was first brought on board in January 2017 to provide
pre-construction architectural services
but with funding now in place work can proceed in earnest subject to the virus situation.
Station owner Abellio Scotrail has recognised the need to provide upgraded facilities alongside signage and lighting enhancements to establish a greater sense of place.
This work will centre on a glazed pod at first-floor level within the main concourse reserved for first-class and sleeper passengers. This will allow the current ticket office and lounge to be refitted as additional retail space fronting Union Square and complements a reconfiguration of existing retail to benefit from new glazed extensions.

General repairs and refurbishment will also be carried out to the fabric of the A-listed structure.
Lead designer and project director Andrew McCafferty of Austin-Smith:Lord said "We have enjoyed collaborating with Abellio ScotRail during the design process to develop a solution that will enhance the quality of the environment for station users and improve the passenger experience to and from Scotland's third-largest city. In collaboration with our sub-consultants Fairhurst and SVM, we look forward to working with Morrison Construction during the delivery phase."
Morrison Construction will carry out the work in phases to allow continued operation of the station throughout the construction period, commencing as soon as it becomes safe to do so.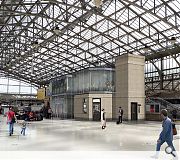 Concourse improvements seek to instill a greater sense of arrival and departure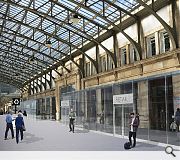 Existing retail will sit behind a new glazed frontage
Back to June 2020