Aberdeen Station remodel to boost civic presence
July 3 2018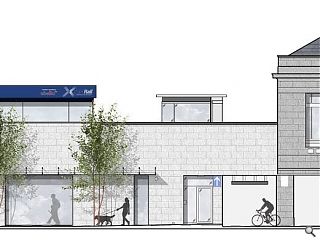 A major remodeling of
Aberdeen Station's Union Square
front entrance has been proposed as part of a wider programme of improvements commissioned by site owner Abellio Scotrail.
The fifth busiest station in Scotland was last remodeled in 2008 during construction of an interconnecting
Union Square shopping mall
but has been criticised for it inactive frontage and absence of clear identification.
The chosen solution will introduce floor level retail as well as installing more legible signage to signpost the station entrance, which will sit below a new branded canopy.
In a design statement Austin-Smith:Lord wrote: "Utilising the form of the existing building, the proposal is to 'wrap' a distinctive signage element up and over, following the existing building line. The purpose of this element is to 'announce' the entrance and enhance the vertical scale of the entrance, without increase the physical size of the building.
"This language of 'wrapping' and connection is continued through the glazing. The proposal is to extend the glazing of the existing entrance, by removing a portion of the existing granite panels, to meet the top line of glazing at the first floor."
This work will entail a re-jig of the internal layout by relocating the current ticket office and first class lounge.
Back to July 2018