Jehovah's Witnesses spearhead South Inverness 'gateway'
May 19 2020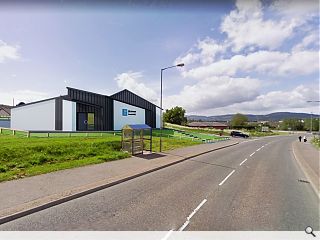 A new place of worship has been announced in Inverness by the Jehovah's Witnesses to rise off land off Old Edinburgh Road.
The
Kingdom Hall
is being built on an undeveloped parcel of land to the south of the city to replace an existing meeting place in the city centre which the group has outgrown.
Bearing clean angles and sharp white render and strip nail metal cladding the design has been chosen to stand apart from its surroundings to act as a 'gateway entrance statement' to the Inshes and Milton of Leys area.
Comprising a main auditorium, ancillary spaces and entrance the hall will be delivered by the local design and construction department of the churches Britain branch.
In a planning statement the department wrote: "The unique architectural concept comes from the design of these three areas in significantly different ways, in terms of layout and massing, yet bringing them together with finishes to deliver a building with strong seamless architectural merit.
"This approach has delivered a building with a high level of interest from all angles. No elevation is the same, yet all are linked through scale and pallet choice. This ensures the building will capture the imagination of all and generate a level of interest demanded from a unique piece of architecture in a gateway position."
Pre-application discussions indicate planners are happy with this approach on the proviso that land is retained for a possible retail development to the immediate south.
Back to May 2020