Mixed-tenure community takes shape at former Larkfield bus depot
May 19 2020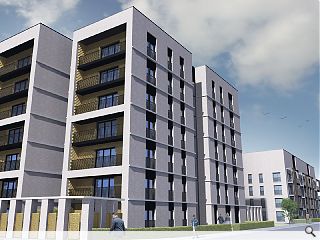 A disused
bus depot
in Govanhill, Glasgow, is to be reimagined as a mixed tenure community of
121 homes
under plans brought forward by the Link Group in partnership with Govanhill Housing Association.
Complementary to a larger 186-home development currently being delivered by Ashleigh and Link on the remainder of the cleared site while the latest proposals concern the south-west corner fronting Butterbiggins Road.
Built around two parks and twin private courtyards the scheme seeks to create a walkable community that discourages car use through an emphasis on accessibility, internal cycle stores, reduced car parking and landscape design by RankinFraser.
Fronted by a seven-storey retirement living block at the junction of Butterbiggins and Victoria Road's the scheme will mediate in scale to four-storey tenement-stye blocks, all unified through a common palette of clay facing brick with brass shingle cladding providing relief to inset balconies.
In a statement, Hypostyle Architects wrote: "The development of the Butterbiggins site offers the chance to finally complete the missing corner of this revitalised residential area. By referring to the historical context of the Govanhill tenements in both detailing (projecting string courses and window orientation) and urban form (courtyard building form) and referencing the historical use of the site (cloister brick walls of the Larkfield Bus Garage) this contemporary design is underpinned by a strong awareness of its genius loci."
Organised around a circular tree-lined access road with shared surfaces at nodal points.
Brass shingle cladding will provide relief to balcony areas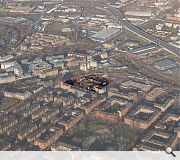 Brownfield land between the south side and city centre has become a hot bed for development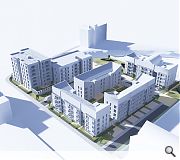 The former garage will eventually play home to a bustling community
Back to May 2020