Failed New Town office block to be repurposed as a hotel
May 18 2020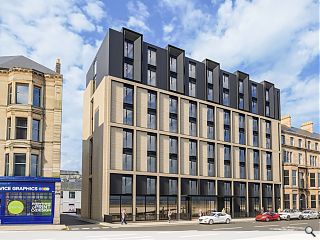 Michael Laird Architects and Cannon Capital Developments have come forward with plans to convert and extend a vacant Edinburgh office block into a hotel.
Meldrum House
at Drumsheugh Gardens dates from the 1950s, when it replaced the former St Andrew's Free Church and is considered unfit for purpose in its present guise, with concrete cladding beginning to fail and inefficient floorplans.
To remedy this it is proposed fashion 166 bedrooms within the current envelope, capitalising on a prime footprint in the heart of Edinburgh city centre.
In a statement, the architects observed: "In recent years, the concrete rain-screen cladding has been spalling and, as a result of this, the north elevations have been covered in a protective netting.
"The refurbishment of the existing building is deemed the least intrusive option - both in terms of upheaval to the neighbours and from a cost and environmental aspect."
Stripped back to the concrete frame the building will be recladded in sandstone, dark brick and grey metal panels complete with a roof extension to the north.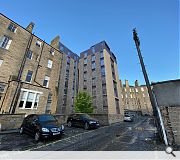 Interior elevations of the T-plan structure will be clad in dark brick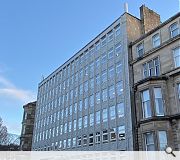 Meldrum House is now in a sorry state with only netting to prevent spalling concrete from falling onto the street
Back to May 2020