Sitooteries and green screens promote social living in Glasgow
May 15 2020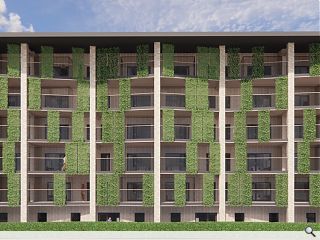 Anderson Bell + Christie are bringing forward plans by Queens Cross Housing Association to deliver social rented accommodation on the site of a former hostel near St George's Cross in the city's west end.
25 Burnbank Gardens
will see the current Burnbank House demolished to allow construction of 46 new flats. Emphasising social interaction to mitigate against isolation the properties will be geared toward older demographics but will not reinstate the symmetrical terrace line lost to 1960's redevelopment.
Instead, the infill will maintain the existing layout with a tenement-style block of six storeys with a recessed upper level to keep the apparent height down and dormer windows in a nod to the historic survivors opposite.
Central to this approach will be opening up the backcourt area to Napiershall Lane, which will offer private gardens for ground floor flats, an energy centre and 23 parking bays.
To migrate away from the corridor effect of 1960s deck access design access will be provided from twin close entrances with a low quality brown render on the current building making way for stonework and more generous proportions.
Each upper floor will have a generous south-facing semi-private access deck shaded by green screens and with 'sitooterie' spaces for residents wishing to socialise without venturing to the communal garden.
Commenting on these spaces the architects wrote: "These areas could be configured in a variety of ways as open sheltered spaces for informal social interaction, or enclosed sun spaces capable of hosting a managed programme of events and activities."
Urban Pioneers will oversee the landscaper design with specially selected climbing plants chosen to provide a variety of colours throughout the seasons.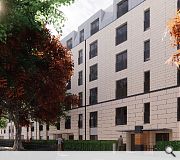 A modern tenement design will bridge the ages between north and south halves of Burnbank Gardens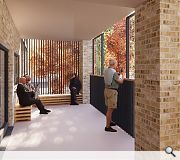 Emphasis is placed on generous communal spaces to encourage more collegiate living
Back to May 2020