Vital repairs to secure 17th century Cambuslang castle
May 12 2020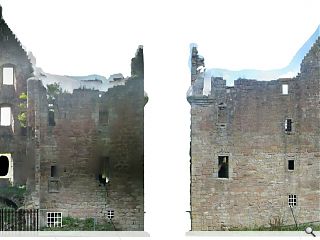 A B-listed tower house in South Lanarkshire is to be saved from nature's clutches under new plans to stabilise and secure the ruin.
Listed building consent is sought for
Gilbertfield Castle
, near Cambuslang, as part of a larger residential development which is funding the renovation works.
Abandoned for over a century the path to ruin was accelerated in May 1916 when four young men were charged with maliciously pulling down the south bastion, ostensibly on the grounds of public safety.
Recounting the tale CD Architects wrote: "In their defence, the accused claimed to have been passing the castle when they observed a huge stone protruding from the turret. Considering it hazardous, and fearful that it may dislodge and injure someone, they procured a rope and tugged put the offending stone, pulling with it to the ground a mass of surrounding material. Their public-spiritedness earned each of them a £1 fine from an unconvinced magistrate."
Interventions penned by Groves Raines Architects will see the footprint of the castle at its fullest extent indicated by vertical stone slips, with new interpretation panels documenting the history of the site.
Structural works include shoring up the wall end to secure access with forged steel grilles reinstated to ground-level openings.
Back to May 2020