Lockdown-proof Bonnington BTR scheme readied
May 13 2020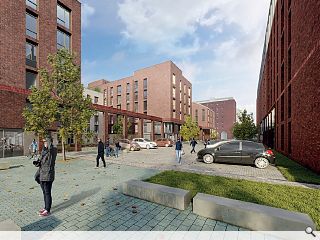 Edinburgh's embrace of the build-to-rent (BTR) sector is gathering steam with the submission of a substantial
527 home
redevelopment proposal for the former John Lewis depot - part of a broader industrial to residential shift in the area.
Specialist developer PLATFORM_ is leading the charge following a similar bid to build
498 such apartments
on Glasgow's Broomielaw, recruiting jmarchitects to deliver on the sites full potential while acting as both funder and operator.
A range of apartments are proposed spread across three distinct buildings, each with access to on-site communal amenities such as a home working area, cafe and a bike club.
Situated off Bonnington Road the scheme will orient ground floor commercial functions to the main road with a 'pocket park' being formed to the north-west corner, which will ultimately link to a future route to the Water of Leith walkway.
Amenity spaces will also include an 'ecological quiet zone' running parallel to the river, private courtyards and rooftop terraces. A new public street will also be laid connecting Anderson Place to Bonnington Road Lane.
Documenting the key design drivers of their project the architects wrote: "The fine grain of the roofscape has been assessed with particular reference to the industrial heritage of the area. Modulating roof levels and forms address the unique riverside context.
"The configuration of the blocks have been informed by the urban grain of the context. Block A creates fingers of development breaking the new street Bonnington Place Lane with a layered approach to public and private space. The fingers address The Water of Leith respectfully with a generous setback and scale. Block B forms a perimeter around the existing Biscuit Factory clearing defining the street pattern and a private amenity courtyard. Block C addresses Bonnington Road and defines the main street and back lane."
Matt Willock, development director at PLATFORM_, added: "These proposals not only serve to redevelop a vital location, but help to tackle Edinburgh's crisis in realistic housing, especially in Edinburgh city centre. BTR is a new, upward trend that offers high-quality rented accommodation at competitive prices for a wide-ranging demographic. Across the UK, nearly 60 per cent of our residents earn less than £30,000 a year."

Site clearance is scheduled to take place in the middle of this year, enabling a start on-site to be made early next year for completion in the middle of 2023.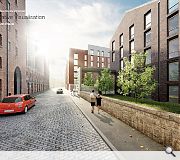 A new access road will connect Anderson Place to Bonnington Road Lane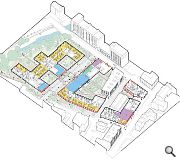 Accommodation will be spread across three separate buildings, each responding to the prevailing site conditions
Back to May 2020