Students build a sustainable future with flexible & energy-efficient home
April 7 2020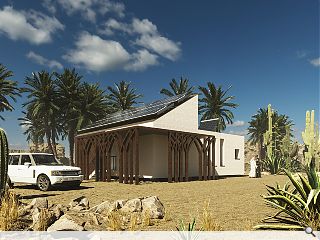 Student-led designs for a prototype net-zero carbon home have been further developed as part of efforts to demonstrate new methods of construction and ways of living amid concurrent crises sweeping the world.
Team Esteem, a group of 60 Heriot-Watt students, will show how modular construction can challenge perceptions around established construction technologies, which generate significant amounts of waste.
In response the student team have turned to bricks formed from waste products, a 3d printed concrete windcatcher and bi-facial photovoltaics, all entwined with smart technology to enable fine performance manipulation.
The finished home will take centre stage at the World Expo 2020 and Solar Decathlon Middle East (SDME) competition in Dubai this summer after being shipped out from Edinburgh.
In a press statement, the group wrote: "Team Esteem is working by example to showcase that it is possible to continuously be proud of where and how we live. Developing upon sustainable behavioural practises to promote wellbeing from both how the house is constructed and how it encourages occupants to live.

"Following the competition, we aim to use the house as a 'live-in lab' on one of our campuses, allowing students to develop ideas and test future technology which will further assess how our design will continually perform."

Urban Realm follows the development of the prototype home to date in our spring edition. All renders prepared by Alpha Architects.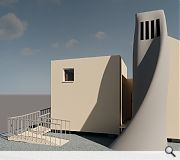 A feature windcatcher has been custom designed to cool a private courtyard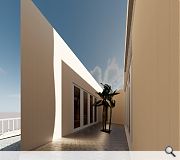 Passive design considerations such as orientation, insulation and airtightness govern the approach
Back to April 2020