Heriot-Watt students develop solar house prototype
|
Send to friend
January 30 2020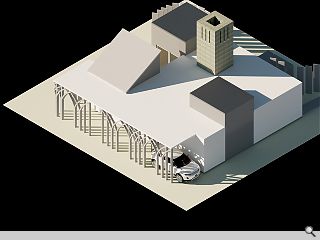 A team of students from Heriot-Watt University are preparing to jet off to Dubai to participate in the World Expo 2020 and Solar Decathlon Middle East (SDME) competition.
Led by students with the support of the university Team ESTEEM will be involved in all aspects of the construction of a demonstration one-bedroom home from its design and marketing, through to the use of intelligent systems.
As sole British representatives in the competition, the multi-disciplinary team aim to harness the power of the sun to power a fully functional home while taking into account the cultural, climatic and social context of the Middle East.
To that end, the team propose to build a Passivhaus standard home built from recyclable materials such as bricks manufactured from waste products, cork insulation and cross-laminated timber, all conforming to a modular design which permits assembly in as little as 14 days.
Key design features include a decorative carport for shading, a 3d printed concrete wind tower for natural cooling and light materials designed to reflect heat.
Supported by the Construction Scotland Innovation Centre the project will begin with the construction of a full-scale prototype in Edinburgh this spring to serve as a testbed for the various products and innovations on display.
A second adapted version of this model will then be shipped to Dubai for assembly on site.
The SDME will take place between December 2020 and April 2021 during which 21 university-led solar-powered homes will go on display, with the winner to be decided on a range of criteria from architecture and energy efficiency to sustainability.
Back to January 2020