Developer seeks permission in principle for Davidson's Mains infill homes
April 6 2020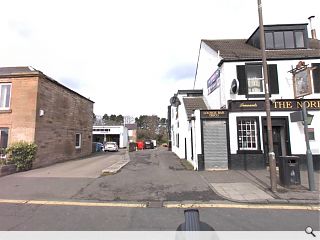 Planning permission in principle is being sought for a brownfield residential development at Davidson's Mains, Edinburgh, by the Stanton Group.
Outline proposals have been prepared by Yeoman McAllister Architects to establish the principle of a change of use from a vehicle repair workshop and car park for any subsequent filing.
The half-hectare site at 43 Main Street is envisaged as hosting 36 two- and three-bedroom flats spread across four separate blocks of between two and three storeys to mitigate overshadowing. Projecting 'fin windows' angled to maintain privacy and maintain a direct line of sight to the Main Street are proposed for a prominent front gable of the entrance building.
In their submission, the architects wrote: "The site provides an ideal opportunity to regenerate a somewhat underused 'backland' area, on a prominent location accessed directly from Main Street. We wish to regenerate this site and provide an uplift in the character of the local area.

"It's is clear that from Main Street within Davidson's Mains, the proposals would be very difficult to see given that most of the development is obscured by existing buildings. Only a glimmer of the new structures would be visible directly opposite the site entrance area."

A suggested materials palette for future development includes a variety of facing brick and composite metal cladding with stainless steel and glass balconies.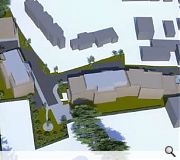 A drainage culvert places limitations on developable land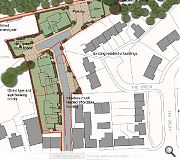 A small green space/play area could be included in the plans
Back to April 2020