Spring edition of Urban Realm forges new connections
April 6 2020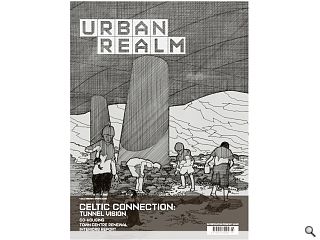 Black swan events shock by their very nature and the traumatic beginning to 2020 will create ripples that may take years to settle. Amid these ruptures, however, come opportunities as we all find time to reassess entrenched ways of working.
Amid the pandemic, it can be hard to view the future with optimism but if you look closely, the seeds of a better world can already be glimpsed. Tom Morton is among the first on the scene with a Phoenix of his own, banging the drum for a co-housing revolution, which promises to bring about a more collegiate form of living.
The knock-on ramifications for already struggling town centre's would seem to be unremittingly grim, with the likes of Paisley grappling with a retail collapse before the shutdown. Intriguingly this may ultimately be a benefit in disguise for our 'clone town' society, as we report.
Social distancing also provides breathing room to develop new supply chains and production avenues as we find with our in-depth look at mass timber. Its potential is well documented but can a shock to the system spur adoption?
Self-isolation might be the mantra of the moment but rather than follow Trump's lead in building a wall Boris Johnson has begun his premiership with calls to build a tunnel to Ireland - but is it any more likely to be built?
Elsewhere we mark the end of another era with a look at the life and work of Charles Jencks, identifying how one man reshaped our collective landscape.
While offices remain closed we're unable to come to many of you so we invite you to come to us instead with a digital edition of Urban Realm. We hope the magazine will provide some comfort during this period of self-isolation.
Back to April 2020